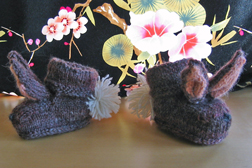 if i have the magical putting up picture ability, here are the slippers.
the long winded story
....the short story is this is a pattern from Debbie Bliss Nursery Knits, done in handspun & US #3 needles, sized for 3-6 month old . now i am hoping to take the idea and make a larger version for my 1+ year old grandson. i am wanting to add some grippy something or other on the bottoms for him, so far suggestions include puffy paint & flexible fabric glue such as Aleene's tacky glue. i had imagined some iron on bits. any other suggestions?